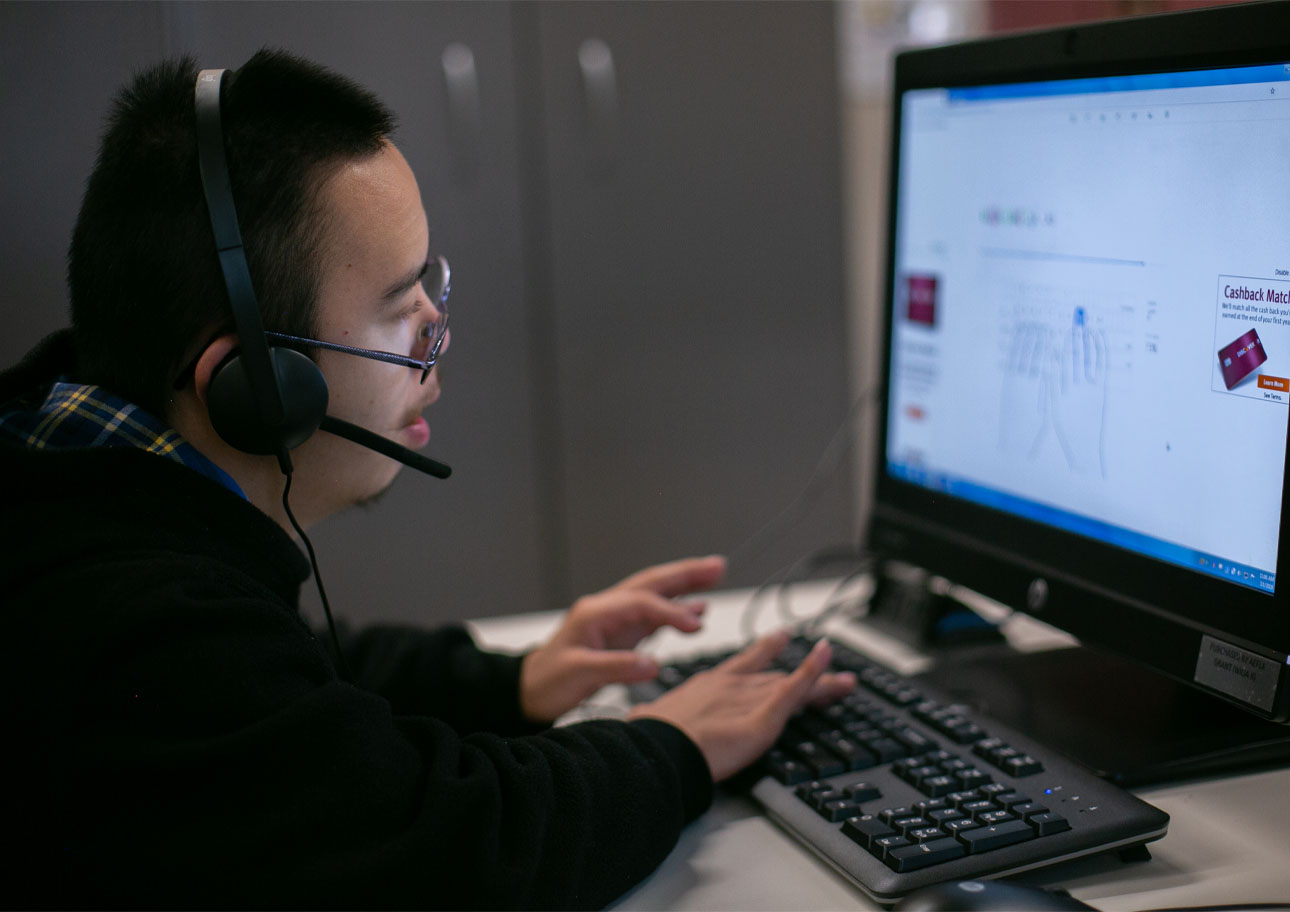 April 27, 2020.
---
Here at the North Orange County Regional Consortium (NOCRC), we are dedicated to making sure our members' students have the resources they need to make the shift to online learning. Keep reading for 8 helpful tips on how to stay organized, productive, and successful while taking courses online.
1. Make a Weekly Schedule and Stick to It
It's always good to get organized! At the start of the week, we recommend planning out your schedule and sticking to it. You can use an app, a spreadsheet, or even a good old-fashioned pencil and paper for this. Start by mapping out Mon.-Fri., and then plan what needs to get done on the weekend. Programs like Microsoft Word have templates you can use.
Plan to wake up and go to bed at the same hour, set regular mealtimes and set aside time for your online studies. For example, set time aside to watch lectures, catch up on reading, and write your assignments. Be realistic about the time it will take to complete a project.
When sticking to a schedule, your routine will carry you through the week and ensure that you have enough time to keep up with life, family, and studies. It is also a great tool to give you peace of mind knowing everything will fall into place.
Sometimes the best-laid plans don't always work out. Give yourself some grace and forgiveness. If you get off track, no problem! Sit down, look over your plan, and make adjustments. It's best to have a plan, but it's even better to be flexible. It will take time to adjust to a new way of learning. Keep going, and don't give up!
2. Track Long-Term Projects in a Calendar
While a schedule is perfect for keeping track of your daily life details, a calendar can help you see the big picture for staying on top of long-term due dates like exams and papers.
Just like an in-person class, most online courses will have a syllabus with a class outline and due dates. Make sure you add all important dates to your calendar, and if it helps, add reminders with notifications, e-mails, or alarms on your computer or phone.
Whether you choose an app like Google Calendar or even a paper calendar, it's essential to keep track of when your assignments are due. You might want to add assignments for different classes with different colored text/ink pens. Many students find it helpful to have a separate calendar just for school, while others put homework on their regular calendars next to their dental appointments. Stick with a system that works for you.
 #LifeHacks
It's easy to use Google Calendar or iCal (iPhone calendar app) to schedule reminders and set up your long-range tasks, as well as your hourly, day-to-day schedule.
Digital calendars like Google Calendar and iCal allow you to have multiple color-coded sets of calendars, which can help keep due dates from multiple classes organized.
The more organized you are, the more successful you'll be in class. And remember to set aside time to… 
3. De-Stress and Take Care of Yourself
It sounds simple, but during hectic times, it's easy to make decompressing a lower priority. In your schedule for success, make sure to set aside regular blocks of time to do simple things to take care of yourself, including cooking healthy food, exercising, and resting.
According to the Harvard Health Blog, one secret to a healthy brain is taking a break. A 10-minute nap can give your mind some much-needed rest, and you'll wake up sharper and ready to learn. And physical exercise can help reduce stress and boost brain function.
It is also important to make time for things that make you happy, whether it's checking in with a friend or listening to your favorite podcast. Whatever you choose to do, taking regular happiness breaks will boost your mood and your brain.
#LifeHacks:
Plan your meals ahead of time.
Leave out a bowl of fruit or chopped vegetables to encourage healthy snacks.
Set a timer in increments throughout your day and take five-minute happiness breaks.
Short naps are encouraged.
4. Organize Your Class Notes
Part of staying organized in any class is taking good notes, and that goes for online courses, too. Whether you choose a physical notebook or an online app or Word document, note-taking can help you remember lectures, prep for assignments, and be ready for tests and quizzes.
Make sure to label your notes with the name and date of the class. If the lecture is being recorded, write the timestamp from the video (i.e., 2:45, or 10:45–15:30) for each paragraph of your notes, in case you need to go back.
#LifeHacks
Keep all your class notes for the same course in one document. That way, when you're working on assignments or studying for tests, you can easily find info by using the search option or by hitting "Command + F" (Mac) or "Control + F" (PC) to search for keywords.
Be prepared and go over any assigned reading before you log in to class. It will be easier to follow along and take notes.
5. Connect with Your Classmates Online
In a time of social distancing, being social with your online classmates can help you build a community and have fun with your studies. Many online learning platforms offer chances to share, ask for help, and give advice in forums.
Plus, you can always form your own study groups, making learning more enjoyable while boosting your grades. And aren't you more likely to finish your homework if you promised your study buddies you'd (virtually) meet up with them?
#LifeHacks
If you're more comfortable messaging than talking on the phone or being on a video call, apps like Google Hangouts, Facebook, WhatsApp, and Discord are great options.
Free video conferences are always an option with Zoom, Google Hangouts, or WhatsApp. This is a great way to connect!
6. Pick a Study Spot
And of course, you've got to set aside the time to study! Finding the perfect study spot in your own home can help you get into student mode. A desk, the kitchen table, or even your favorite chair can work. Pick a quiet place where you won't be disturbed, or if that's not always possible, invest in a pair of noise-canceling headphones.
Talk to the people you live with about supporting your need for quiet time so you can keep up with your studies. Pick a place that's yours, so everyone—including you—knows that it's time for you to study when you sit down. If it is difficult to balance family and school responsibilities, make a specific time commitment to studying and share this timeframe with your family. This helps with everyone understanding expectations while supporting you in managing all of your responsibilities.
#LifeHacks
Turn phone notifications off while you're studying.
Use apps like Offtime, Freedom, or Cold Turkey to limit social media during study time.
For a good work-life balance (especially if your workspace is in your bedroom), cover your desk with a blanket when you're done with school for the day.
7. Ask for Help and Seek Extra Resources
From instructors to fellow students and counselors, you have a community of friendly support that you can ask for help if you need it! We recommend making a list of everyone you can contact if you need help and keeping it handy.
Many online learning platforms offer orientations where you can learn the basics, like how to hand in assignments or use the discussion forum. Often, these platforms will even include instructional videos in multiple languages. If you have any questions, we encourage you to reach out to your instructor or classmates for support or contact the school helpdesk for general registration or technical support.
#LifeHacks
Find the contact info for your teachers, counselors, and school help hotlines and put them in your phone and e-mail address books. Your syllabus is an excellent place to look for your instructors' contact info.
Bookmark the help pages of your learning software systems.
Ask for help—and acquire study buddies—in the discussion forum.
Make handy—and contact whenever needed—the school's helpdesk. Most often, telephone and e-mail options are available. Be sure to note their hours of operation for providing support.
8. Keep it Fun!
Learning is an adventure, and online classes can be a lot of fun. There are plenty of ways to keep up the good vibes. Play an upbeat instrumental playlist while you study—or turn your study breaks into dance breaks! When it's class time, have your favorite snack or soft drink nearby to give you pep when you need it.
Creating enjoyable learning rituals will not only boost your mood, they'll have you looking forward to your study time.
#LifeHacks
You can find upbeat study playlists on YouTube, Google Play Music, or Spotify, or make your own with your study group.
On one of your study breaks, watch that new video you've been waiting for from your favorite YouTuber or celebrity blogger.
If you like eating fresh-baked cookies more than making them, how about pre-made cookie dough for a reward after passing your first test?
Now that you know some of the best online learning tips, it's time to relax and enjoy the term. Someone will always be there to help along the way, and you'll be able to connect with your peers and learn new things…all while wearing your comfiest pair of sweatpants!