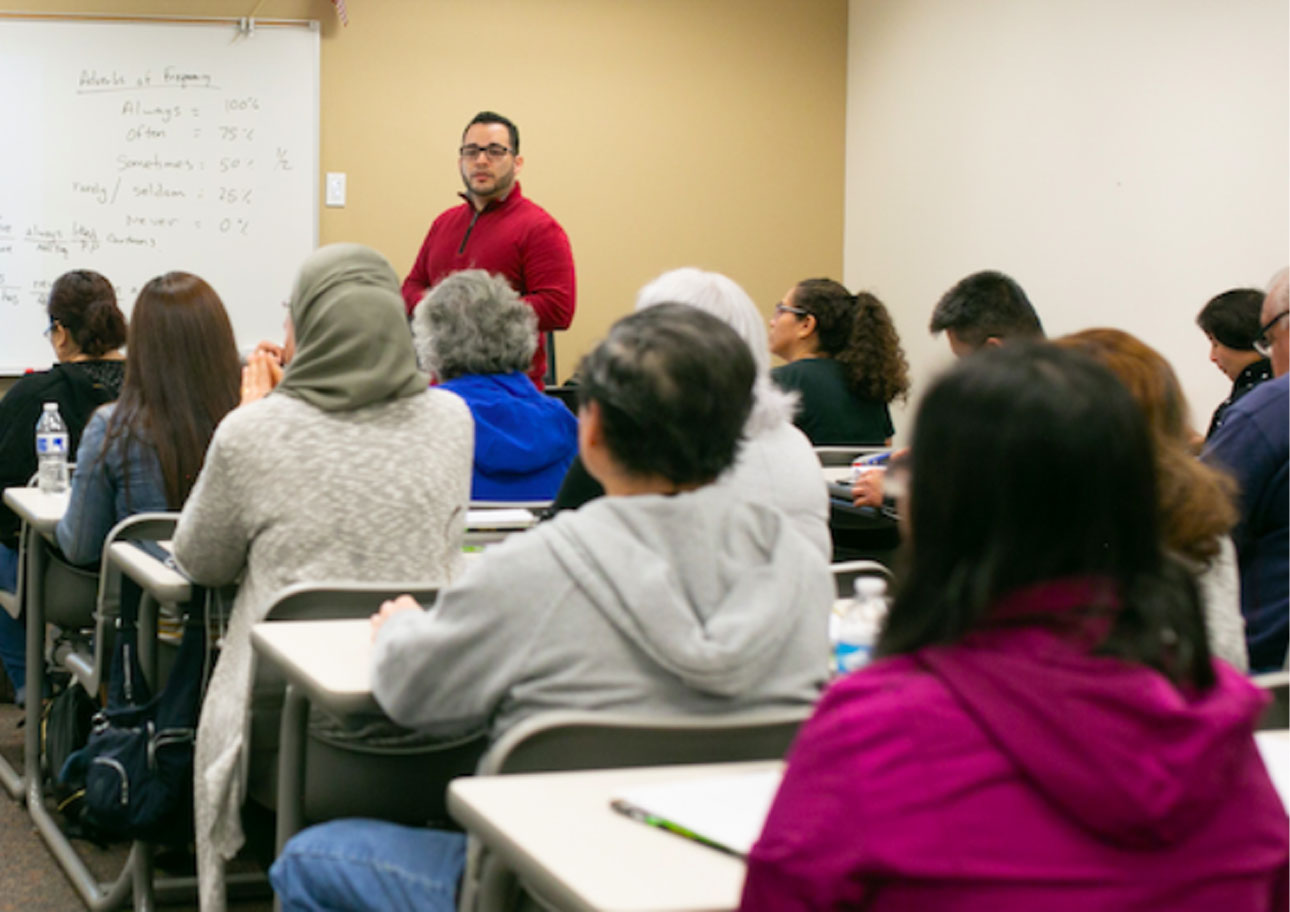 November 26, 2019.
---
It's been 47 years since Pedro Linares was in high school, but recently he returned to the classroom with big goals in sight.
Although Linares is content stocking shelves at a big-box store where he works, he wants to chase his dream of starting a career in healthcare—and he's well on his way. After enrolling in the North Orange Continuing Education (NOCE) High School Diploma/GED-HiSET Preparation Program earlier this year, Linares started studying for the GED.
Now, his hard work is paying off. He has already passed one of the four sections required for the GED (Reasoning through Language Arts, Math, Science, and Social Studies).
Excited for what's to come, Linares says, "I know life will be better. It's very important for me to find a new job." Linares moved to the United States in 2017 from Venezuela, where he graduated high school in 1972. However, he needs a high school diploma from an American school to kickstart his new career.
The GED/HiSET program at NOCE is free for people 18 and over and helps students prepare for the General Education Development (GED) Exam and High School Equivalency Test (HiSET). Students can earn either their high school diploma or high school equivalency certificate if they pass the exams. NOCE's Anaheim campus features adjunct teachers and in-class tutors who assist students one-on-one.
He learned at NOCE that he could take the tests in Spanish. 
NOCE supplies test preparation materials in both English and Spanish, since the GED and HiSET are offered in both languages. This is especially valuable for students like Linares, who is studying for the GED in Spanish while taking a separate class to develop his knowledge of the English language. By providing these materials and classes, a wider range of students are able to take the exams.
Many of his classmates also have earned high school diplomas from other countries, but are now looking to earn one through the United States education system. Many say that NOCE is the perfect place to get started.
Linares was previously enrolled in ahigh school equivalency program at another California school. Unfortunately, he didn't find the teachers as helpful. His son-in-law was taking a course at NOCE at the same time, and encouraged Linares to give NOCE a try.
Linares is glad he made the leap. He has found "kind and patient instructors" and friendly classmates. "I'm feeling comfortable in the classroom," said Linares. "The teachers act like coaches, and encourage you and give you confidence.They are very nice people."
Lauren Maynard, Basic Skills adjunct faculty, was one of Linares's teachers during the summer session. "Pedro is a very memorable student," said Maynard, who teaches language arts and social studies at NOCE's Anaheim Campus. "He was very invested in our class community and loved to engage the class in discussions to delve deeper into the topics."
Linares said that the learning programs could even be fun. One of his favorites was Kahoot!, a web-based game used by Maynard as an engaging educational alternative to a pop quiz that boosts comradery between students.  "The teachers make the courses dynamic," said Linares.
Linares was soexcited about his progress that he encouraged his wife to enroll in another NOCE program. He hopes to move on to the Pharmacy Technician Certificate program next, which prepares students for positions as pharmacy technicians at community or institutional pharmacies. Students must have a high school diploma or equivalency certificate to enroll.
"I love to read and study," said Linares, who plans to earn his GED by the end of the year. "I want to learn every day for the rest of my life."