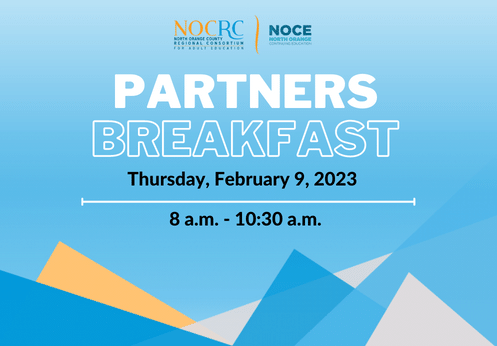 January 24, 2023
---
The North Orange County Regional Consortium (NOCRC) for Adult Education invites all students, community members, partners, faculty, and staff to attend the 2023 NOCRC Partners' Breakfast on Thursday, February 9, 2023, from 8 a.m. – 10:30 a.m. The first in-person event in three years will be held at the Anaheim Campus, Room 105/107, and will include a hot breakfast.
The event provides an opportunity for community partners to share input about the adult education needs and partnership opportunities.
---
Thank you for your interest in the 2023 NOCRC Partners' Breakfast. Unfortunately, the event is now at capacity, and we will no longer be accepting attendees.
If you would like to partner with NOCRC, please send your name, organization, and contact information to NOCRCinfo@noce.edu